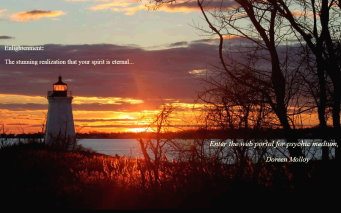 Doreen Molloy is a professionall psychic medium
and the author of Proof Positive – Metaphysical Wisdom.  Lab certified through the University of Arizona's VERITAS Research Program, Doreen participated in mediumship communication and survival of consciousness studies from 2003 to 2008 – and from 2008 to the present time is a certified medium for the Windbridge Institute.




Doreen is also on the Medium's Advisory Board for both the Windbridge Institute and the Forever Family Foundation in Oceanside, NY., and she is the host of the monthly radio show 'Mediums & Messages' on Signs of Life Radio.
In addition to her private practice in Hudson County, NJ, Doreen is a licensed Grief Recovery Method ® Specialist.
Doreen also teaches personal workshops on mediumship development, introduction to Tarot, beginner's astrology and psychic development.
She is currently writing her second book and has written articles for Inner Realm magazine and was a featured writer for John Edward's quarterly newsletter, Evolve during 2006-2007. She was also featured as a contributing writer for John Edward's Infinite Quest web site.
You can visit her on the web at: www.doreenmolloy.com
Doreen Molloy can also be reached by email at: doreen@doreenmolloy.com.